Class Picture Day is January 19!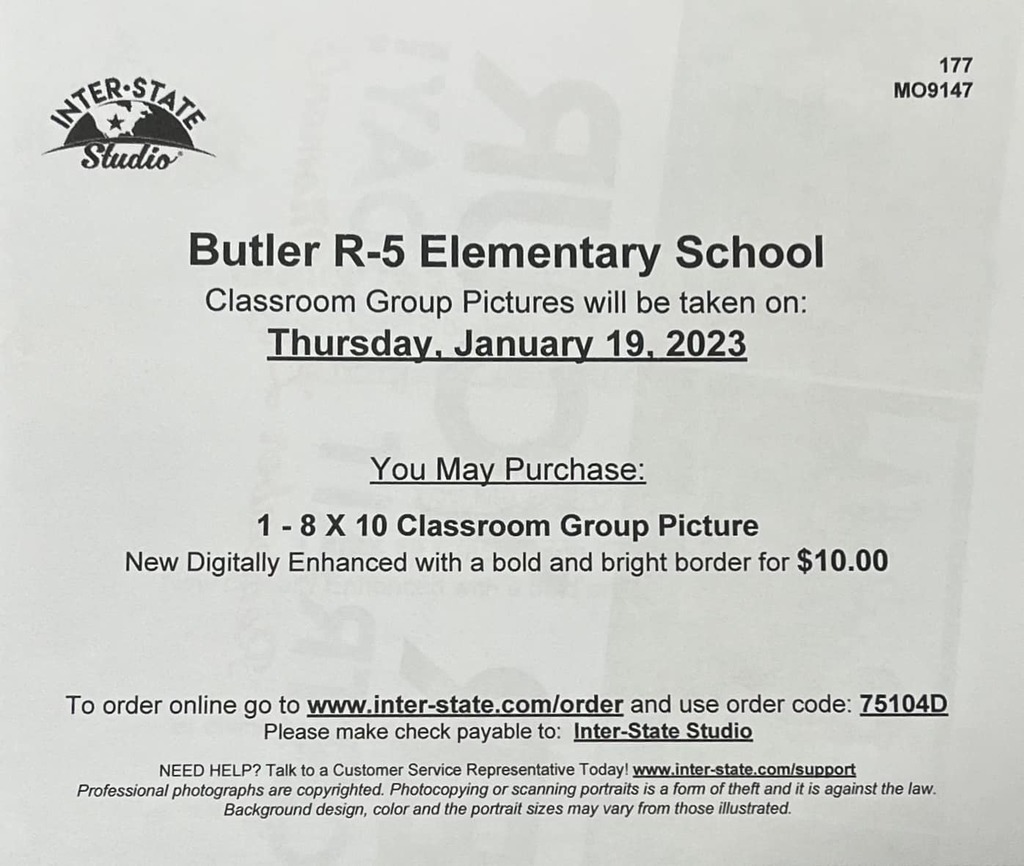 Check out our office newsletter!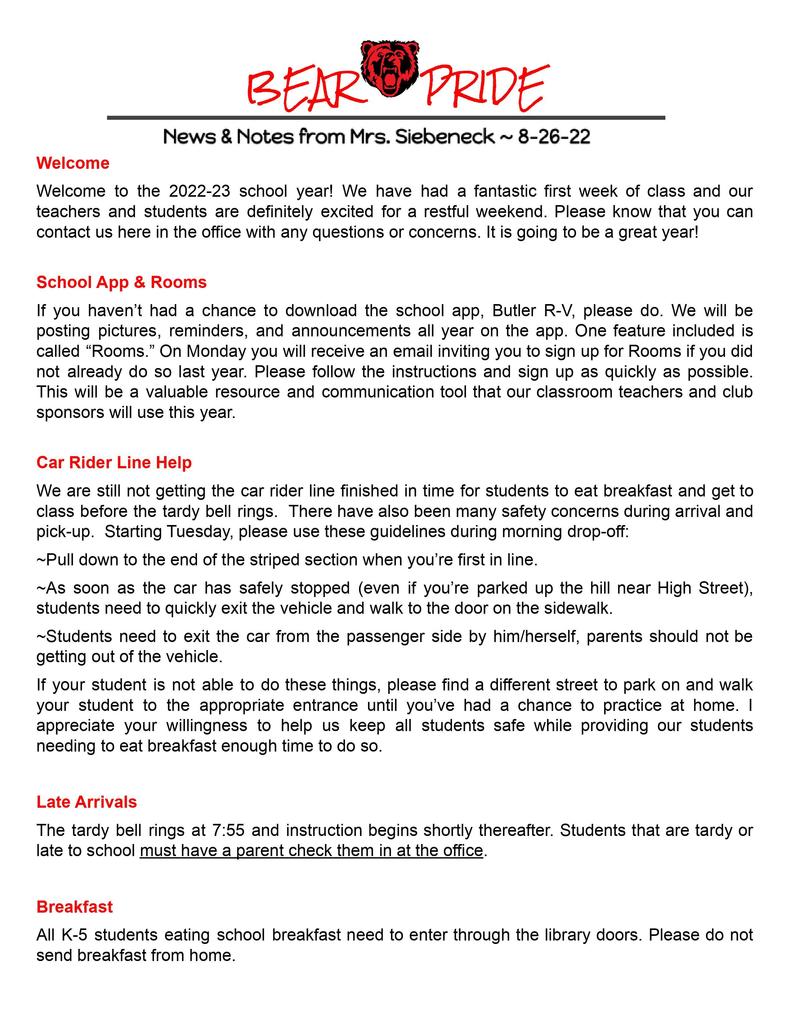 Dear Parents and Students, Our NEW online registration module is now ready! We are very excited to make registration faster and more efficient, eliminating much paperwork for you and our staff. YOU WILL NEED TO HAVE ONLINE REGISTRATION COMPLETED, SUBMITTED, AND APPROVED BEFORE... A. Elementary Students: before back to school night. B. Junior High and High School Students: before coming to the building and getting your schedules. Please log in with your username and password using the following instructions. Your username will be your full email address. If you do not have or remember your password, you should have a reset password email in your inbox or can click "Forgot Password." 1. Go to our website: butlerr5.org 2. Click Menu, and under "For Parents," click Parent Portal. 3. Enter your unique username and password. 4. Once you have successfully logged on, use the menu bar at the top to select your child and the area that you would like to view. 5. You will be prompted to complete online registration on a yellow bar across the screen. Click "View" to start registration. Registration documents save as you enter them. You do not have to complete registration in one sitting. However, your registration will not be considered until you submit it completely. If you have questions or need help, please contact the school directly. Thank you!
Dental Screening & Varnish Event Wednesday, April 13 Please call the nurse's office if you have not signed a consent form for your student & we will send another form home.
Good Sunday afternoon, BES! Just a reminder that school is IN SESSION tomorrow, Monday, March 21. See you there!
Hey, BES! School is IN SESSION tomorrow. Monday 3/14!

Due to forecasted snow, school is canceled today in Butler. Thank you.

Due to road conditions, school is canceled tomorrow, February 18th, for the Butler School District. Thank you.

School is canceled today in Butler. Thank you.

Classes are canceled again tomorrow Bears! Everyone have a safe weekend. Thank you.

Due to road conditions and more predicted snow, classes are canceled tomorrow for Butler School District. Thank you.

Classes are canceled tomorrow in Butler. Stay safe and warm Bears!
There is NO SCHOOL Monday, January 31. We are not making up the snow day at this time.
Let's celebrate our Bears next week for Winter Homecoming!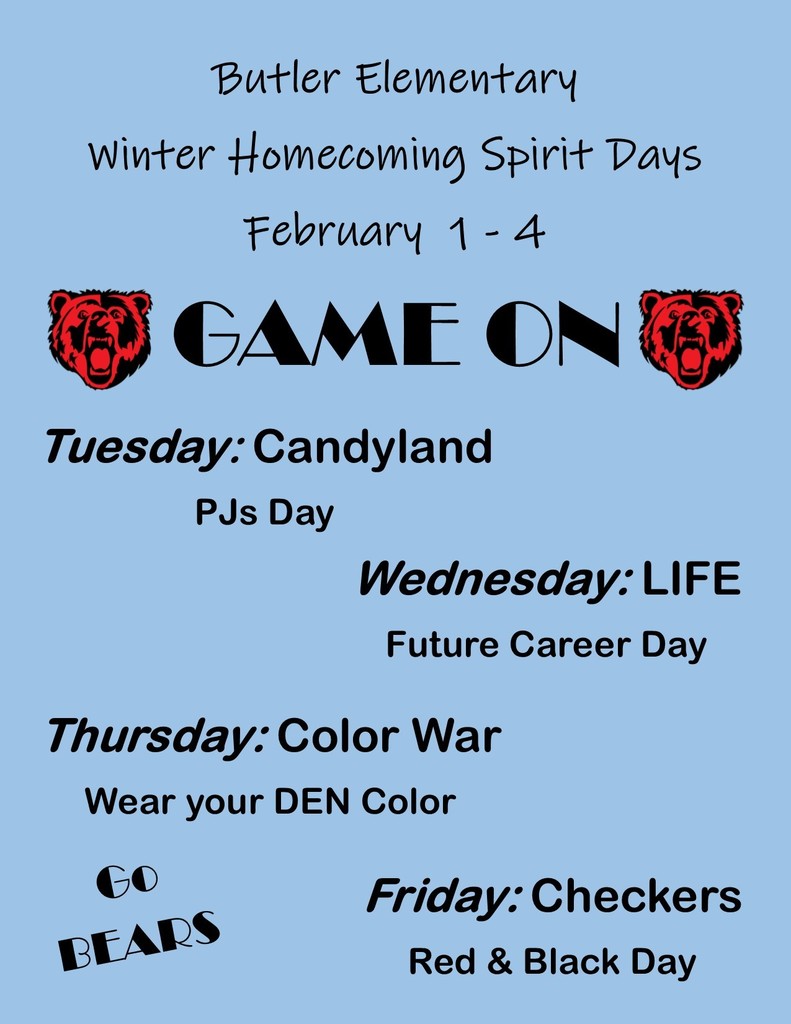 Don't forget class group pictures are tomorrow! Flyers were sent home last week. If you'd like to order online use the school code: 64539H
https://inter-state.com/FlyerEntry
January Teacher Spotlight
Please remember your child needs a water bottle at school every day! We have ran out of our supply of extras.
Friday's lunch options: Choice #1-Hot dog Choice #2-Ham & Cheese Wrap Choice #3-BLTE Salad

No school today in Butler due to current road conditions and more incoming snow. Stay safe Bears!